How Should I Deal With An Alleged Probation Violation In New Mexico?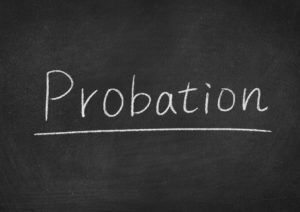 Probation violations in New Mexico put you at risk of being sent to jail or prison or being subject to additional supervision requirements. Prosecutors frequently take an inflexible view that if you have violated probation that you must be punished with some amount of jail or prison time – let alone consider that you may not have actually violated your probation at all. This blog post describes the process which occurs after you are accused of violating probation and identifies where a skilled defense attorney can help you when you are accused of violating your probation.
Potential Probation Violations In New Mexico:
In New Mexico probation officers may issue a violation report for numerous reasons. The most common reasons that a probation officer will initiate a probation revocation includes:
Failure to report for an appointment with your probation officer
Failure to complete a treatment program
Being accused of committing a new crime
Leaving the State or County you reside in without prior permission
Testing positive for drugs or alcohol
The government bears the burden of proof to prove any probation violation. It is important to work with a skilled attorney to determine what defenses can be asserted on your behalf. There are important differences from trial here. There is no jury and the judge determines your guilt or innocence. You have the right to call witnesses in your defense and cross examine the government's witnesses. It is important to ascertain what your options are and get a defense strategy in place given the tight time frames that probation violation proceedings operate on in New Mexico.
When Will I Have a Probation Revocation Hearing?
In New Mexico there are strict time limits to hold hearings in Probation Revocation cases which are detailed in New Mexico Rule of Criminal Procedure 5-805. Generally speaking an initial appearance must occur within 30 days of your arrest. A final probation revocation hearing must occur within 60 days of your initial appearance. There will frequently be status hearings set between your initial appearance and final revocation hearing for the government and defense to inform the court whether the case will require an evidentiary hearing or if it will be resolved with a plea agreement.
Probation Violation Penalties In New Mexico:
In New Mexico judges have a significant amount of discretion in determining how a probation violation can be punished. Even if your entire sentence was suspended as part of a plea agreement your judge could revoke your probation and sentence you to the balance of time in jail or prison. If you took a plea while admitting to prior felony convictions and that habitual enhancement time was held at initial sentencing all of that time can be imposed.
How Long Can I Be On Probation In New Mexico?
By law the maximum probation term in New Mexico is a 5 year term. Judges can and do suspend more than five years as part of plea agreements – even if you had 10, 15, or 20 years of suspended time the maximum probation term at initial sentencing cannot exceed 5 years. However, in the event you violate your probation before completing your probation term the judge may extend your probation term and in some cases may even place you on a brand new five year term of probation.
What Should I do When I'm Accused of Violating my Probation?
The most important thing to do when your probation officer makes an accusation that you have violated probation or files a motion to revoke your probation is to be proactive in dealing with the problem and to hire a skilled defense attorney to assist you. This problem will not resolve itself and the warrant that the court will issue for your arrest will not go away on its own.
Any defenses to the alleged violation should be identified early and aggressive advocacy should take place to seek release from custody and reinstatement to probation. A significant amount of probation violation cases resolve through plea agreement and there are probation violation cases where entering a plea is the best move.
Negotiating a resolution also requires the assistance of a skilled attorney as you should make sure that you really are getting the best possible outcome in your case. I have had success negotiating favorable outcomes for clients accused of violating probation even in seemingly impossible situations where the government has had overwhelming evidence that a probation violation occurred and my clients were subject to decades of prison time.
If you or a loved one needs assistance with a probation violation contact Todd J. Bullion today for a free consultation at 505-452-7674 or emailing me at todd@bullionlaw.comfor your free consultation.